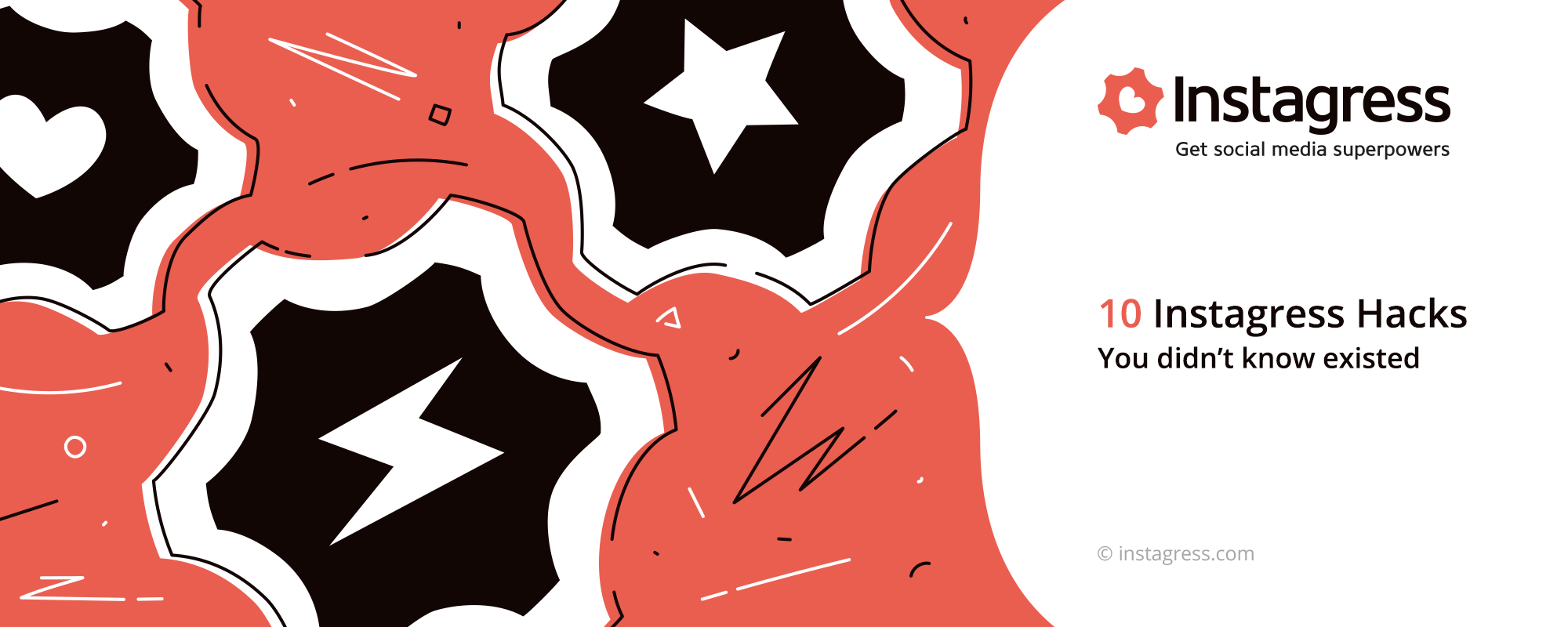 So, you consider yourself an Instagress pro, huh? You may be surprised to learn something new in this list of our favorite Instagress hacks. Check it out, and let us know if you try out some of these tricks!
1. See your most recent actions in the Activity Log

Have you ever wondered exactly what media and accounts Instagress is liking, commenting, following, and unfollowing?
The Activity Log is where you can see all of your recent actions, which is a great way to make sure that your Instagress Activity is targeting the right types of media and users. If you find that you're not interacting with the right types of media and users, it's probably time to adjust your Targeting settings.
2. Use the Schedule to auto-pause your Activity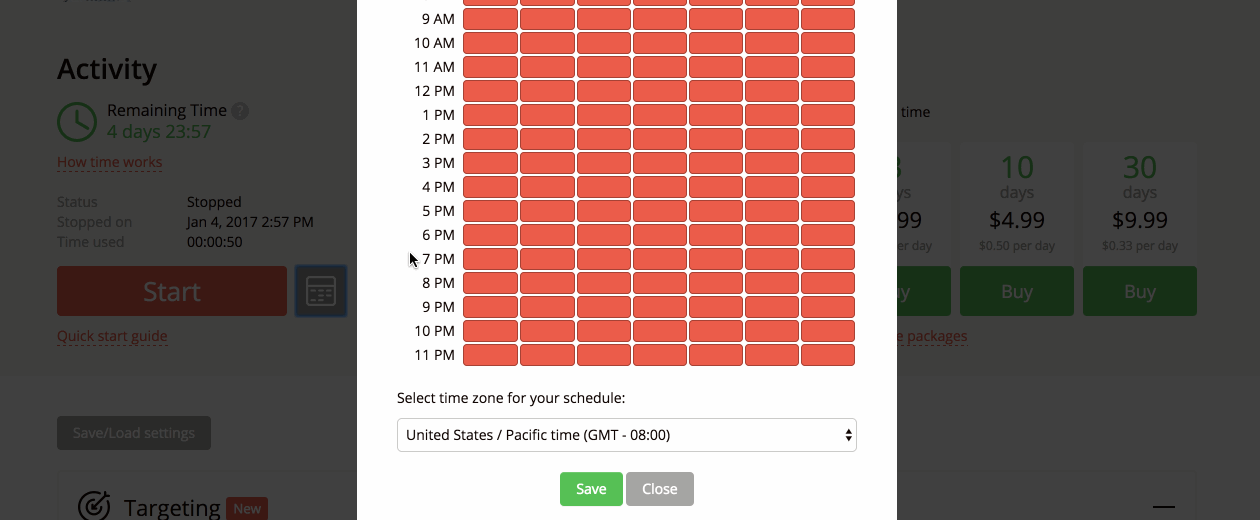 It's true that we do not recommend doing manual actions on the Instagram app while Instagress is running. This does include liking, commenting, following or unfollowing. However, it's understandable, and a best practice to respond to comments on your photos, and engage with your followers.
An easy hack for this problem is to use the Schedule to auto-pause your Instagress Activity during given hours, during which you can do your manual activity, like responding to comments.
Simply click the Schedule button, which is located next to the Start button and select the times you want your Instagress Activity to run.
Keep in mind that red boxes mean that your Activity will be active and white (cleared) boxes mean that your Activity will be paused during selected hours. Also, don't forget to set the right time zone for your schedule before you click Save and Start.
3. Search and add multiple tags, locations, and usernames without closing the popup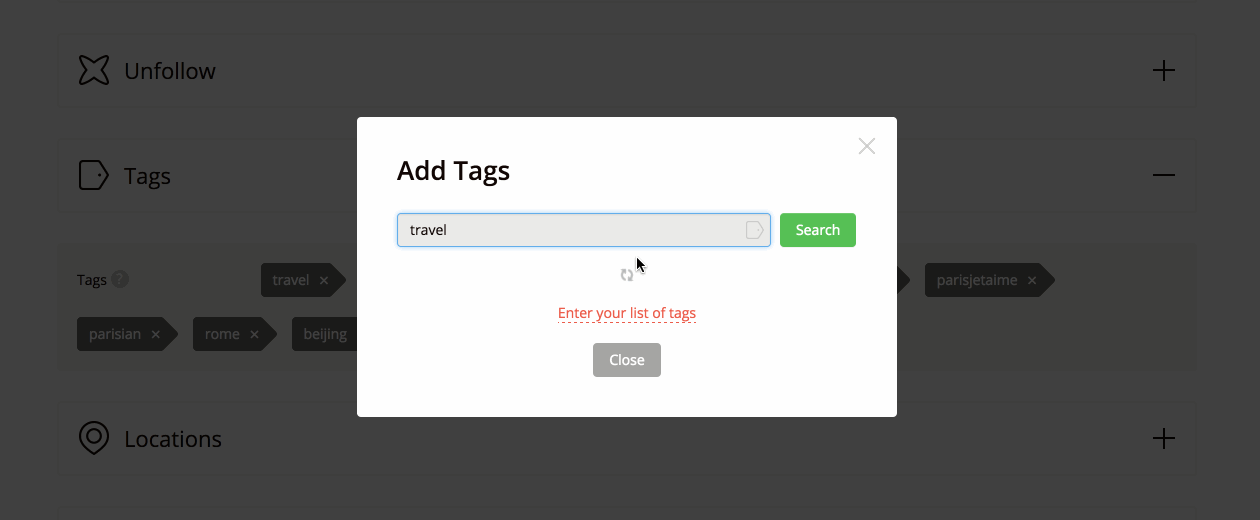 There's a simple, but often overlooked feature hidden in the Add Tags, Locations, and Usernames popup. When you search for a tag, for example, you can tick the boxes for multiple tags in that search and then search again without ever closing the popup. This is the fastest way to add lots of tags to your settings.
4. Save your settings as presets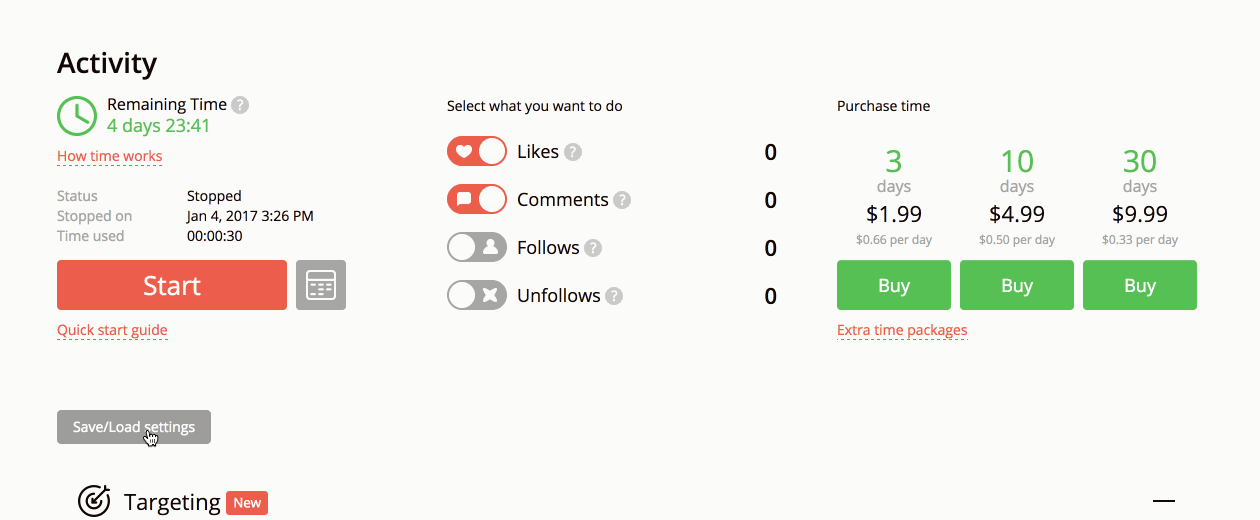 If you've ever wanted to change between different settings on different days, you've probably felt overwhelmed changing out all your tags, locations, and usernames.
Did you know that you can save your settings so you never lose them again? Simply click the Save/Load Settings button, which is located under the Start button on your Activity page. Here you can save or load settings.
5. Target a list of usernames (instead of followers/followings of usernames)

Guess what? There is actually a very easy hack for targeting lists of usernames. As you know, the Followers, Followings, Likers and Commenters, which use usernames do not target the actual usernames added in your Usernames list, but the people that follow them (Followers), or the people that they follow (Followings).
If you just want to target a specific list of usernames and like their photos and videos, you can simply manually follow these users and then run your Targeting on Followings > My Feed. This will target the accounts that you follow.
You can simply save this setting as a Preset for future use!
6. Get auto-stop notifications by email

Sometimes your Instagress Activity will auto-stop when you hit a limit. For example, if the system runs out of users to unfollow, it will automatically stop and you will receive the message, "no more users to unfollow".
Click the @ symbol at the top of your Activity page to set your email for notifications.
7. Add emoji to customize comments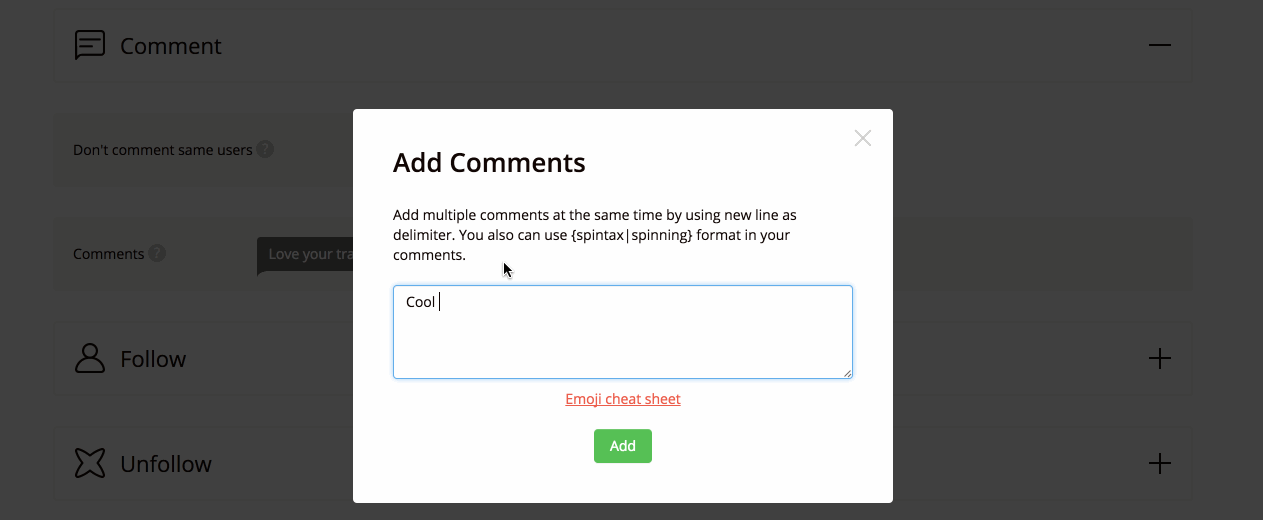 The purpose of auto-comments is to get the attention of Instagram users. The best way to do this is by adding at least 15-20 generic and short comments. Long and spammy comments will only annoy users, but generic and interesting comments will grab their attention.
What better way to get an Instagram user's attention than by using cute and friendly emoji in your automated comments? You can access the emoji cheat sheet on the comments popup.
The most advanced way to use comments is to customize the comments for your Targeting. So, for example, if you are targeting travellers, you leave really creative and targeted comments like:
🌴 Wish I was traveling!
Love your travel pics 🌞
😎 Wish I was there 😎
8. Easily clean up tags, locations, and usernames in one go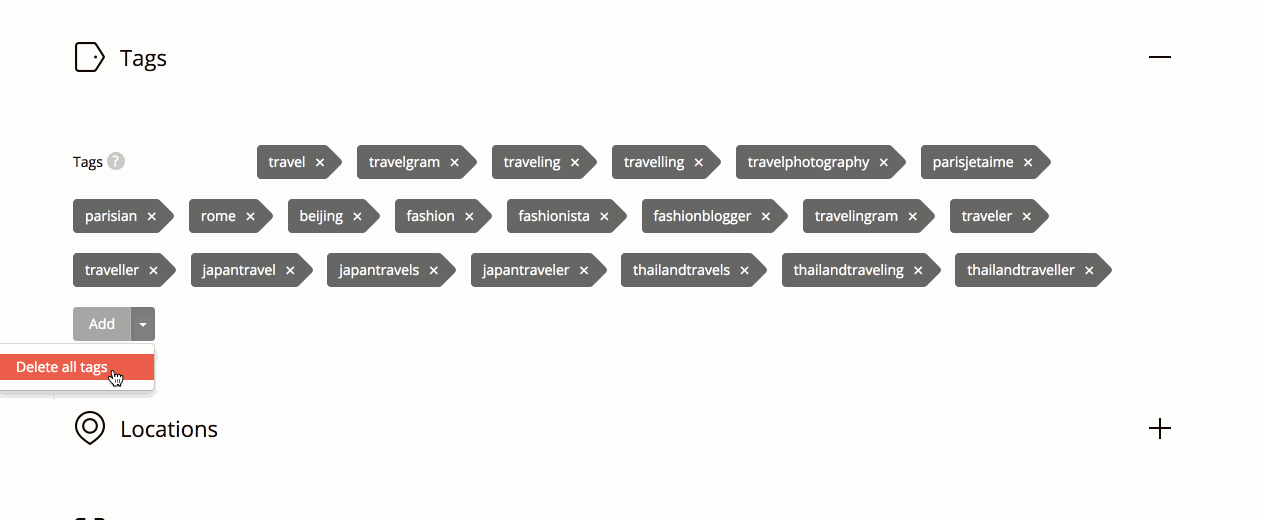 As you know, one can add up to 1,000 Tags on Instagress, but what happens when you want to delete all of these in one go? After all, 1,000 is a lot to manually delete one by one...
You may not know that there's an easy way to delete all tags, locations, or usernames in one easy go. Simply click the drop down menu next to Add and select the Delete all option.
9. See useful stats about your Instagress usage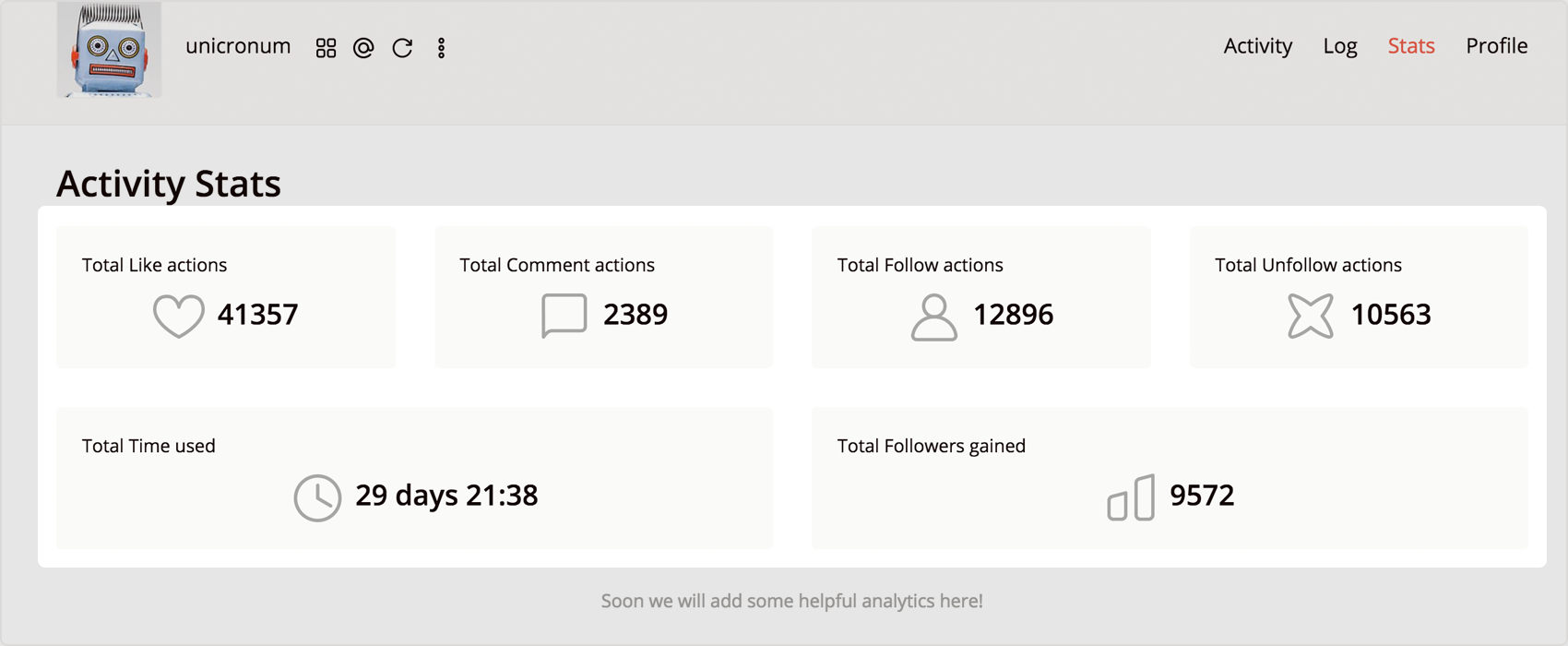 Click on Stats from your Dashboard or Activity page to see a breakdown of the total actions Instagress has taken on your behalf. Get even more insights into your performance by looking at the Total Followers gained metric, which shows the total number of followers your account has gained since using Instagress. Additionally, Total Time used shows the total amount of Activity time you've used on this account.
Stay tuned for more helpful analytics, as the Instagress team continues to build out the Stats page!
10. See your most recent followers gain on the Profile page

Visit your Profile page on Instagress to see your most recent posts, as well as your most recent gains or losses of followers. Stay tuned for more stats to come!
What are your favorite Instagress hacks?
Do you have a personal hack you'd like to share? Please let other users know in the comments!